Our Technology
---
Panorex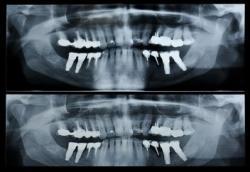 A panorex is a very impressive piece of imaging machinery in that it is capable of identifying many issues and structures that a normal x-ray is not. Initially you will sit in a chair with your chin on a small ledge. Once positioned in the machine, it will rotate around your entire head taking a full 360 degree view of the teeth, head, sinuses and bones.
The ability to view the full structure of your head as a whole is very informative to the dentist. It will allow us to see any potential problems and make sure that everything is functioning as it should be. The panorex is capable of viewing specific types of structural problems, infections or asymmetry among many others.
---
Intraoral Camera
The intraoral camera is an amazing diagnostic tool for viewing different angles in the mouth that we would not have been able to just a few years ago. The camera gives us the ability to view the entire mouth on a monitor so that we can get a closer look at any potential issues or problems that may arise. In addition, the patient will have the ability to see for themselves firsthand the same images we are seeing. These digital images are also excellent for gaining procedure acceptance from insurance companies.
---
CEREC

A New Reason to Smile…
What is CEREC ®?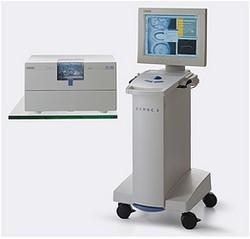 CEREC ® means we can quickly and economically restore damaged teeth using a durable ceramic material that matches the natural color of other teeth in your mouth. CEREC ® is an acronym for Chairside Economical Restoration of Esthetic Ceramics.
What advantages does CEREC ® offer me?
First and foremost, the restoration can be performed in a single session, usually in about one hour. With CEREC ® there's no need for us to make an impression and send it to a lab. We won't inconvenience you by asking you to return for a second visit.
Second, the restoration is natural looking, because it is made of tooth-colored ceramic material. It's metal-free - no silver fillings to discolor your smile! The ceramic material is compatible with tissue in your mouth and is high-grade, anti-abrasive and plaque-resistant. It allows us to be extremely precise and save more of the healthy part of your tooth.
One-Visit Crowns
CEREC ® is a registered trademark of Sirona Dental Systems.
---
Digital X-Ray
Digital x-rays are quickly becoming adopted by a large percentage of the dental industry. A digital x-ray allows the dentist to take an image of the tooth or teeth and put it into an imaging program. Within this imaging program, there are a number of tools that will allow the dentist to take a very close look at the teeth and surrounding structures with amazing accuracy. As a benefit to the patient, the digital x-ray also provides nearly 80% less radiation than a standard x-ray. This is due to the fact that the digital version of the x-ray is much more sensitive to this radiation and has been specifically designed with the patient in mind.
---
Diagnodent

Cavities can hide in your teeth.
It is our goal to help you maintain and improve your oral health. To achieve this goal, the dental care that you and your family receive in our office always includes state of the art equipment. Among the newest technologies is a small laser instrument called the DIAGNOdent, which scans your teeth for hidden decay.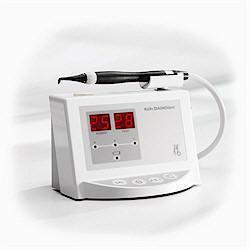 We can't cure what we can't see!
Locating hidden decay before it destroys tooth structure (from the inside out) is a major goal of modern dentistry. The widespread use of fluoride supplements in dental materials, toothpastes and drinking water has made tooth surfaces harder and more resistant to decay.

However, diagnosing cavities beneath the hard surfaces is more challenging because the disease process can start through microscopic defects in the hard surface enamel and can readily spread into the softer tooth structure beneath the surface. X-rays and probing with an explorer are limited in detecting sub surface decay, particularly when the cavity is in its early stages. Fortunately, the new DIAGNOdent is a major breakthrough that allows the dentist to monitor the areas below the hard surfaces. The DIAGNOdent allows the dentist to locate hidden decay, and with the treatment preventing the spread of disease before it destroys the tooth from within.
Patient friendly, especially for children.
This unique instrument provides instant feedback on the health of the tooth. A pen-like probe simply glides over the tooth surfaces constantly checking the health of the tooth. A number scale and an alarm signals the operator and patient when there are signs of hidden decay. This new technology is safe and pain free for patients.
An ounce of prevention is worth a pound of cure.
We encourage regular dental check-ups, cleanings and home care. Early detection of problems minimize the expenses related to major tooth repair. New technologies take us a giant step forward to helping you achieve the goal of minimally invasive dentistry.
Conventional Exams

With conventional instruments, it is generally not possible to probe drop-shaped fissures.

DIAGNOdent Exam

DIAGNOdent has the great advantage of detecting caries in the very early stage by measuring the laser fluorescence within the tooth structure.
---
Nitrous Oxide
Nitrous Oxide, known to many as laughing gas, is the most commonly used form of sedation in dentistry. It is administered by having the patient inhale the gas, which is carefully monitored by your doctor. You will fall into a euphoric state and feel completely relaxed. All feelings of fear and anxiety fade away, leaving you to sit back peacefully while your dental procedure is performed. In most cases all dental work can be completed in one visit while you are sedated.
Nitrous oxide sedation is very safe and effective. Once the procedure is over the nitrous oxide will wear off fairly quickly, and you will probably be able to drive yourself home and return to your daily activities.
You will need to have a preliminary visit with your dentist to make sure that you are an eligible candidate for nitrous sedation. If you have been worried about your next dental visit it's time to stop! Ask us about sedation dentistry and schedule your appointment today.
I've been a patient of Drs. Robin and Justin Kurtz for 4 years. This practice is the most knowledgeable, organized, technically advanced, and compassionate dental office I've experienced. I drive 50 minutes each way because of their dedication. Each staff member is accommodating and helpful with scheduling, cleaning, and procedures. Every appointment begins on time. They cleanings are detailed and thorough. All my procedures have beendone with the highest level of expertise and have been painless. I've recently been seen by the newest doctor in the practice,Dr. Justin Kurtz. His skill set rivals the best dentists. Both doctors utilize a technology called CEREC, a state-of-the-art process used to create tooth restorations such as crowns, veneers, and bridges in a single visit. The machine scans your tooth providing a three dimensional image. Since CEREC restorations only take a few minutes, there is no need for a second appointment and no temporary crowns are needed. I like the way CEREC restorations are made of ceramic porcelain that is safe for my body. (No metal used) I am thankful this practice invested the time and money in this advanced technology. Give this dental practice a try. Your teeth will benefit as well as your schedule.
I have been going to them since I've been little. Never had another dentist. They are the best around and treat you great. I am very thankful to have them take care of me.
I have been going to Dr. Kurtz along time and just love it there.. He is amazing and so is his staff. You ever have an emergency they will get you in as soon as possible. My son and his wife go there cause they feel the same way about them. My husband now goes to him and likes him and the staff very well. .. Thank you Smile design group
Just got a cavity filled. 100% pain free. Good job guys!
I have been going to Dr. Kurtz since I was a kid. His office staff are knowledgeable and super friendly! I feel that Dr. Kurtz goes out of his way for all of his patients and truly cares that you are feeling great by the time you leave! I have always had a fear of going to the dentists and feel like over the years him and his staff have helped my fear to almost go all the way away! Thanks Dr. Kurtz and your staff for the excellent work over the years!!
I absolutely love the relationship I have with Dr. Kurtz and his team. They are very friendly, knowledgeable and strive to deliver the best service possible.
Dr. Kurtz has been my dentist for years and he along with his staff are very friendly and professional. Dr. Kurtz is detail oriented and is honest and upfront about any issues he sees and is accurately detailing the process of whatever dental services you may need. The staff is so friendly along with my favorite hygienist Megan, they know exactly what your insurance will cover and you never have a long wait time!! You won't be disappointed!!
It was great how I could get my crown done in one day! Didn't have to wait long at all, the staff is always friendly and very compassionate.
Excellent, friendly, professional services! I was referred by neighbors after an accident that required a crown. The receptionist "Ms. Corey " was exceptionally helpful and had me scheduled for an afternoon appointment that day. She was very experienced and helpful. The staff were all extremely knowledgeable and highly professional throughout my appointment. Dr. Kurtz was outstanding and thoroughly explained what was required prior to proceeding. The equipment was very high tech and most impressive. I can highly recommend Dr. Kurtz and staff to anyone seeking the highest level of dentistry and a professional environment.
Great dr and hygienists. Very friendly and they take care of patients. My kids look forward to going to the dentist!
Awesome staff. Very friendly and professional
Dr Kurtz and staff are all wonderful. Been going here for years
When our previous family dentist retired, we tried three other dentistry practices in Grove City before finding Dr. Kurtz. We've been with him and his staff for over a year now and we have found a home. Friendly, professional, technologically advanced and a wonderful atmosphere all around. The kids are happy, my wife is happy and I'm happy!
I've been going to Dr. Kurtz for almost 9 years. He and his office staff are the best!!!
Dr. Kurtz and his staff go above and beyond to provide a welcoming and comfortable environment for their patients. I highly recommend seeing them for all your dental needs!
Dr Kurtz sure knows his stuff, you cant go wrong with this dentist!
The most pleasant and professional dentistry in central Ohio
Excellent, friendly, professional services! I was referred by neighbors after an accident that required a crown. The receptionist "Ms. Corey " was exceptionally helpful and had me scheduled for an afternoon appointment that day. She was very experienced and helpful. The staff were all extremely knowledgeable and highly professional throughout my appointment. Dr. Kurtz was outstanding and thoroughly explained what was required prior to proceeding. The equipment was very high tech and most impressive. I can highly recommend Dr. Kurtz and staff to anyone seeking the highest level of dentistry and a professional environment.
Professional, friendly service. Great people, great dentist
I love coming to this office for my 6 month check-up. Staff and Dr. Kurtz are friendly, professional and provide great service!
I had two appointments today-xrays/exam and also a cleaming. One was an initial with xrays and exam and the second was my cleaning. Every staff member was polite, helpful, respectful during my two visits today. I was very impressed with my entire experience. I left my last dentist about 10 years ago and hadn't been back to a dentist since due to trust and respect. I am so glad my husband encouraged me to call for an appointment.
Thank you all so much for getting me in on such short notice. Hopefully I can hang on to this tooth till I get home😊
Excellent Care Every Visit!
Dr. Kurtz and staff are always professional and so nice!
Friendly people. Top notch servuce
Love Dr. Kurtz and staff. Been under his care for for @15 years. 👍
Everyone was very friendly
Love Dr Kurtz and all of his staff!
I have been going to Dr. Kurtz for years and he has always done a great job. Now I take my kids and he is very patient with then and they love him and his great staff.
Hign quality service, professional and friendly staff
Although I wasn't as prepared as I would have like concerning the healing process after the procedure, I thought the experience was as good as it could be. Dr. Kurtz was very patient and thorough. He spent additional time and care to make sure the area was anthesized so that the cleaning and lazer sculpting would not be felt. I really appreciated that!
High quality service. Professional and friendly.
There was a film taken because she saw something she was concerned about but didn't give me the results. I would like to know what the result was.
Corey and Megan were very friendly and helpful.
I love Ann. She makes it more fun to come to the dentist.
Professional, friendly caring services
Dr. Robin Kurtz & his staff of professionals are fantastic. They care about your comfort ( I have sensitive teeth), they will work with your schedule & are genuinely friendly. I would not look to anyone else for my dental services. I highly recommend them to anyone.
Very friendly and helpful staff!
Today I had a teeth cleaning and several x-rays done, and I was in and out in an hour. Everyone I encountered there was friendly, and answered any questions I had. They were able to fit me in to the schedule pretty quickly, and I have another appointment in a few weeks. So far, as a new patient, I am very pleased with the service!
Very good appt. as usual everyone was professional and helpful.
Professional, Patient, Friendly
Thank you for being patient with me during my visit. Everyone was very friendly and understanding of my dental anxiety. They did their best to make me comfortable. The referral program was unexpected but very appreciated. I liked being able to look at the X-rays and the hygienist go over them with me.
Everyone was friendly and professional. Seen on time and the whole cleaning did not take long.
Dr. Kurtz was nice as usual and since my teeth were fine I didn't have much interaction with him.
Fast and professional
I've been with Dr. Kurtz for over 25 years and am not looking anywhere else. Her performed a root canal and fabricated and fitted a crown in two hours.....total. One visit, in and out. I look forward to his son joining the practice.
Excellent service!
I had my first visit today and everyone was so pleasant and helpful. I've been looking for a regular dental provider I trust and I think I've found them!
The best dental office ever!
My 6 year old and I both see Dr.Kurtz. He and the staff are always so welcoming and courteous.I have had a decent amount of work done and I have never once felt a thing! They are all amazing with my daughter and she adores them all. I always recommend Dr.Kurtz and his staff to anyone that's looking for a dentist.
Emergency 101
Had a crown fall off while at work. Called the office around Noon and had an appointment at 7:00 p.m. to put the crown back on. Dr. Kurtz has always been available for our family through the years for our dental emergencies and those cleanings every 6 months. We are thankful every day that we found Dr. Kurtz many, many years ago.
Amazing !!!!
Very friendly ! Love this office . It was my first time and I'll be making sure to keep coming back . Loved my 1st visit !
Great staff and we'll run practice
Many people don't look forward to going to the dentist but this is a place you can be confident in. The office staff us fabulous and understanding fear. The office is very clean and welcoming. Most importantly I gave complete confidence in Dr. Kurtz. He is only going to do what us necessary work. I have recommended this dentist yo my boss who us a doctor and also my daughters grandchildren and many family friends I will never go to another dentist after going to Dr. Kurtz.
Very happy
I am not the best patient at the dentist office. I have major fears of my teeth being worked on even cleaning. This office was great at putting my fears to rest and did a great job. So happy I picked this office as we just moved to the area and I had to find a new dentist. Would suggest this office to anyone looking.
I was a nervous wreck when I first arrived but Dr. Kurtz and his staff made me feel comfortable right away. I had two extractions and I can honestly say, I did not feel a thing.
Very professional and comfortable place to have teeth cleaned
I have been a client for 15+ years with Dr Kurtz, I have a always been treated very professional and friendly by everyone that works there.
Wonderful staff
Had a great experience at the dentist today. Everyone so professor and friendly. Recommend Dr. Kurtz any day.
Very informative, professional, explained each procedure thx
Broke a crown
I was a bit nervous when I call this morning with a broken crown and found out that this was their late day ( open 2-8). I got a call at noon and they were able to see me and put in a new crown right away. The atmosphere is pleasant and Dr. Kurtz is very professional. I have been a patient here for at least 15 years and have always been happy with the outcome.
Very professional. Would definitely recommend Dr. Kurtz and his staff for your dental needs.
Great Experience
Everyone was incredibly kind and helpful. My hygienist explained her processes thoroughly and gave me preventative tips.
Excellent Dentist, Excellent Staff
I've had many dentists over my life. Dr. Kurtz and his staff are the best I've been to. I especially like that they make crowns on site while you wait, cutting down on trips. The crown I got fit perfectly the first time, no need to go back for an adjustment. They are also very friendly and do not make you feel like you are on an assembly line. lI highly recommend Dr. Kurtz to anyone looking for a dentist in the Geove City area.
Hygenist was friendly and efficient. Remembered details about my personal life. Dr Kurtz was polite and quick.
First class
I've been going to Dr. Kurtz for close to 20 years. Great people work in the office and never have had any problems whatsoever. Definitely recommend.
Professional, friendly,
Dr. Kurtz and all the staff are very professional, friendly and answer any questions or concerns in a knowledgeable way. Never any pressure to opt for procedures not wanted. Told of different options to me and let me make the decision after explaining to me all involved. The office is a very pleasant and relaxed atmosphere. I would highly recommend Dr. Kurtz and his staff.
I had a crown put in on Thursday and as usual the service and care was great. I always feel the staff and Doctor Kurtz are sincerely interested in my dental health. Great job all. Thank you Joann Skeaton
EXCELLENT DR AND STAFF!!!!
Everyone in the office including Dr. Kurtz are so nice and the quality of care you receive is the best!
Very helpful and friendly. Dr. Kurtz and his staff always do a wonderful job with my children's teeth.
5 Stars
Another Dental Practice has a commercial about performing Tae Kwon Do - "in your Mouth". I had a crown replaced yesterday and what used to take at least 2 visits elsewhere is done in one visit. I am glad I don't have to worry about a temporary crown falling out. One and done. # Happy (and the day after the procedure I feel fine - much better than feeling like someone performed Tae Kwon Do - in my mouth.
Excellent and personal attention.
Friendly, knowledgeable, professional.
Special thanks to Cory, your receptionist. She makes calling and appointments pleasurable. Always enjoy chatting with her. Dr. Kurtz and his staff are excellent. I have been their patient for 20+ years and if the service wasn't great, I wouldn't still be a patient there!
Staff is friendly and great with children
Dr. Kurtz and staff are amazing! Megan is our dental hygenist and she is wonderful. She is very gentle and great with kids!
Friendly, professional and quick
Very professional and friendly!!
Very informative! Staff is very nice! I felt so comfortable! Best dentist office I've been too in a long time! Well actually it's the only dentist I've been too in a long time! Lol! :) but still would recommend to everyone and will definitely be coming back every 6 months!
I love that I am in and out with no waiting.
Professional and Friendly
I just switched to Dr. Kurtz from a dentist I have been with for over 20 years. I have found everyone to be professional, friendly, well educated in the services offered, offers the newest technology and the best one is getting a crown made and put on in the same day! The cost of the services offered are reasonable as I do not have dental insurance.
When my young daughter experienced tooth pain, they were able to get her in very quickly. They have very accommodating hours that work around my schedule so I don't have to miss work. The staff and Dr. Kurtz are friendly, my daughter came home happy and excited.
Highly Recommend
Dr. Kurtz and Staff are always so welcoming! Megan is the best dental hygienist we have found!! Great with children!
Very friendly and efficient.
I took my three year old in for her first appointment and they were very patient and friendly with her. Everyone we dealt with from reception, to dental hygienist, to Dr. Kurtz himself were extremely friendly and made the experience of going to the dentist nice.
Tooth extraction
Felt no pain,. Dr. Kurtz explained what was going to happen prior to the procedure and what was happenning during the procedure.Received good instruction for care at home and received a follow-up call at home the next morning.
My Dental Experiences
I'm happy with my experiences at Dr. Kurtz's office. The entire staff seems to me to be very professional and well-trained. Dr. Kurtz always gives me good advice concerning my particular dental problems. I think the entire team works hard to make every visit a pleasant one.
Doc and Anne couldn't have been better !
Always a wonderful time !
Great team that does great work. Very good with my daughter and she loves going to them as well.
Great Family Dentistry!!
Thank you for always being so accommodating with my whole family. Meghan is the best dental hygienist we have ever had. She is so gentle yet effective.
Cleaning and exam
The hysenists that cleaned my teeth was excellent. I decided to have my teeth cleaned three times a year instead of two. Will pay out of pocket for the third cleaning. I hope to get this girl every time. Thanks! See you this summer
Great job
They did a great job, hours that can fit anyones needs, and very friendly indeed. Glad I changed to them to be my new dentist.
I had a crown installed on a short time frame
Continued Excelllent Experience
The Smile Design Group is always very friendly and helpful. Robin Kurtz has done an amazing job with my teeth and continues to give me excellent service. I am so thankful for all he has done to improve what was once a set of teeth that were not very attractive. Now I have a beautiful set of teeth and I love to smile !!!! :) I recommend them 100%.... You will be happy you joined the group. The Smile Design Group is the BEST !!!!!
Top Rated
Excellent care. I always feel at ease when I am at the office everyone is very professional and I my appointments are always on time. Love this Dentist have recommended several people to them and would recommend more.
Very professional and friendly.
I've been a patient for many years and have never experienced any kind of problem relating to any of Dr. Kurtz's work. The hygienist are very good and friendly. The office seems to run on schedule.
Best it can be - considering it is the dentist
I couldn't be happier with Dr. Kurtz or his office personnel who are a great bunch of people and very helpful.
Always pleased
I'm always pleased with the care I receive from Dr. Kurtz and his staff. Megan is my hygienist and is friendly and very skilled. They are always friendly and treat you like family!
emergency visit
I pulled off a crown and Dr. Kurtz's office was able to fit me in for an emergency repair and to consult for a future visit for permanent solution.... always in a friendly and professional manner
long time client
prompt, friendly, efficient..........as usual
None
Dr. Kurtz always does a great job!
None
I'M amazed that Dr. Kurtz could crown a tooth that i thought i was going to loose. And he did it in one visit. Thanks Dr. Kurtz , you're the best.
None
I always receive excellent service from Dr. Kurtz and his associates, have been going to him for years. Extremely flexible scheduling and very friendly and helpful staff.
None
Dr. Kurtz, Megan, and Cory were all great! I love how friendly everyone was. They were very professional,, and I was very comfortable there on my first visit to Dr. Kurtz' office.
None
On time; professional yet friendly; efficient; clean office; knowledgable
None
Quick, effective treatment. Always concerned with my well-being.
None
Double appt with full cleaning/xrays/etc.....Anne always does a great thorough job........followed by a filling replacement with Dr. Kurtz and Heather and Liz........amazing how efficiently, quickly and hooray....painlessly...they got it done.
None
As always, very friendly and efficient!
None
My experience has been a good one during the ten years or so as a patient. The office has a friendly atmosphere.
None
Dr. Kurtz and his staff are always very friendly, very thorough, and very competent. I recommend them highly.
None
Very professional and courteous office staff. I have been a patient over 15 years.
None
Fast service, friendly staff and very good treatment
None
I love going to see you guys. The best dentist in the whole world. I wouldn't go to anyone else. Everyone in Dr. Kurtz office is great. It is like being with family. If you ever have any questions, they are the ones to ask. I can't say enough great things about you all. Keep up the good work. Thanks for making me feel at home.
None
Dr. Kurtz and staff are always excellent! Very professional, but also fun to interact with.
None
High quality care and an excellent staff. Not you're average dentist.
None
Dr. Kurtz has been our family dentist for many years. He and his staff are always very professional and friendly. We never have a problem scheduling our appointments. He has wonderful technology that allows for the best care like a crown in one visit!
None
friendly, professional; explained each step of the procedure; clean office; efficient
None
Dr. Kurtz is by far the best dentist I ever had. He makes you feel comfortable and deals with his patients on an individual basis according to their needs. Keep up the good work! And kudos to your staff!
None
I have been well taken care of by Dr. Kurtz and his staff. It is always an upbeat experience to go to his practice. Everyone is professional and friendly, and do their best to handle all of my dental needs. I would and have recommended this practice to my friends.
None
Everybody is always so nice and friendly and caring!!
None
Dr. Kurtz and his staff is efficient, friendly and respectful. They use the latest technology and explain anything you need. I am not a paid actor and I'm not getting compensated for this endorsement:)
None
every thing painless and well done
None
Dr. Kurtz is outstanding, I trust his opinion completely. I hold the staff that he has surrounded himself with in the same high regard. A pleasure to deal with.
None
I'm 64 years old and Doctor Kurtz is the most efficient, effective and painless Dentist that I have ever been to.
None
Excellent!! Fast,friendly and efficient. Just like always! Also, they worked some scheduling magic that allowed a filling and regular checkup in one appt. Outstanding!!
None
My family and I have always been very satisfied with Dr. Kurtz and have been for many years.
None
Dr. Kurtz and his staff are wonderful! Everyone is very friendly and helpful! I have been a patient for many years and never had a bad experience.
None
Dr. Kurtz is a great dentist!!! His attention to detail and the overall commitment to his patient is extraordinary! I've never been unhappy with the services and the results show Dr Kurtz stands way above most dentists. I've had to go to other dentists due to insurance constraints and I'm glad Dr.Kurtz works with my insurance. The staff at his office is superb!!! Knows exactly how my insurance works and how much I owe even before it is submitted to insurance without any surprises! Very honest dentist and always makes you feel comfortable no matter how much work I have to have done.
None
Dr. Kurtz and staff went out of their way for me the other day and I am so grateful. I had been having tooth pain for 2 weeks but kept putting of calling the dentist. Finally it got worse so I called Dr. Kurtz's office and they got me in that same day. They were kind, considerate and genuinely concerned with my well-being. After they fixed my tooth they made sure I knew what time the office opened the next morning in case I had any problems or continued pain (which I didn't). I would recommend them to anyone!
None
Although I rescheduled and had a different hygienist my experience was still very positive
None
This is the only dentist I have found on my insurance network that does on lays. Dr Kurtz is very patient. I like the small breaks while working on my teeth. Can't say enough about Cora who goes out of her way to help with me with my insurance so we don't get over charged by our insurance. The staff is always very helpful and friendly.
None
I absolutely hate dental visits but Dr. Kurtz and his staff has always made the visits as pleasant as possible. I have complete confidence in Dr. Kurtz and his staff. I have had years of visits to Dr. Kurtz who has performed extensive dental work on my teeth. My teeth are the best they have ever been and I couldn't be happier with my current choice of dentist. Thank you to Dr. Kurtz and his amazing staff!
None
I have been a patient of Dr. Kurtz for a long time. Excellent dental practice. Highly recommend.
None
Very friendly, professional office. Rarely, do I have to wait long when I arrive at my appointment.
None
Great service, the staff is always very warm and helpful. I have been using Dr. Kurtz's office for 2 years now, and I feel as though my comfort and care are top priority.
None
Pleasant experience as always...nice, and professional. In and out in less than an hour!
None
Doctor Kurtz and staff are great! Always helpful and friendly!
None
Our family loves Dr. Kurtz! We live in Worthington, but drive all the way to Grove City to see him. There are probably a dozen dentists within a few miles of our house, but we don't want to go to anyone else. The entire staff is kind and professional, they really go out of their way for you, and they never make you feel guilty for not flossing as much as you should!
None
I've been a patient with Dr. Kurtz for a long time now. I would not want to go to any other dentist for my dental work.
None
We have been Dr Kurtz for years. He always has exercised great care for my family. He continues to be using the cutting edge of dental technology. He has always provided care with great concern for our comfort and dental health. We very much appreciate Dr Kurtz and his exceptional staff. They are all very personable and make the dental experience enjoyable!
Message Sent. Thank you for contacting us. We will be in touch with you shortly.
Send A New Message
Contact
The Smile Design Group
4000 Parkmead Dr
Suite 300
Hours
Mon:

8:00am

-

4:00pm

Tue:

11:00am

-

8:00pm

Wed:

11:00am

-

8:00pm

Thu:

8:00am

-

5:00pm

Fri:

8:00am

-

4:00pm

Sat:

By appointment

Sun:

Closed
Insurances
Majority Of Dental Plans Accepted
Brands
Wond
CEREC - Chair Side Economical Restoration Of Esthetic Ceramic